Reflex sympathetic dystrophy syndrome (RSD), is also known as complex regional pain syndrome. It is a rare disorder of the sympathetic nervous system that is known by severe and chronic pain. Involuntary functions of the body such as increased heart rate, increased blood pressure, and constricting of blood vessels are regulated by the sympathetic nervous system, which is a part of the autonomic nervous system. The pain associated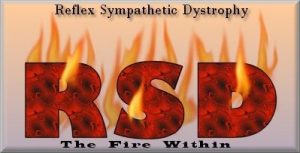 with reflex sympathetic dystrophy syndrome, is related to excessive or abnormal responses of portions of the sympathetic nervous system.
Incidence/Prevalence
In a population-based study, the incidence of reflex sympathetic dystrophy (type 1) was 5.5 per 100,000 person years, and the prevalence rate was 21 per 100,000 population. For type 2, the incidence was only 0.8 per 100,000 persons. After fractures, the incidence of RSD is around 2%. Internationally, the incidence rate of RSD is 26 per 100,000 people, and I tis higher in females ages 61 to 70 years. RSD peaks between 37 and 50 years, and the female-to-male ratio is 4:1.
Causes
Even though the cause of reflex sympathetic dystrophy (RSD) is not known, the condition has been thought to be a malfunctioning of the sympathetic nervous system. There are a few researchers who are questioning this theory. The reason they question this is because RSD often follows trauma to the extremities. Some conditions that trigger RSD are:
Surgery
Fractures
Sprains
Nerves
Some brain disorders
Damage to the blood vessels
The exact cause of RSDS is not fully understood, although it may be associated with injury to the following:
Trauma
Infection
Atherosclerotic cardiovascular disease
Radiation therapy
Symptoms
Some of the symptoms of reflex sympathetic dystrophy syndrome usually begin with a burning pain in the arm, fingers, shoulders, and palm of hand (or both in all cases). In some patients, reflex sympathetic dystrophy may occur in one or both legs. It can be in one knee or hip. At times, RSD may be misdiagnosed as a painful nerve injury. Skin may be extremely sensitive to touch and to cold and hot temperatures (cutaneous hypersensitivity), and it can also become inflamed and swollen (edema). Other symptoms of RSD include:
Skin sensitivity to touch
Burning pain
Changes in skin temperature:
Changes in skin texture: thin, with a shine, sometimes extremely sweaty.
Changes in nail and hair growth patterns
Changes in skin color: purple, pale, red and sometimes blotchy.
Swelling and stiffness in affected joint
Motor disability
Diagnosis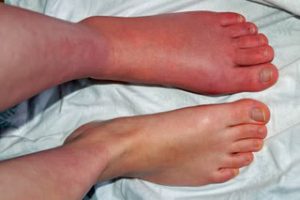 RSD cannot be diagnosed in a laboratory. There is no test available to diagnose it. At times, imaging studies such as MRIs, X-rays, and nerve conduction tests are helpful. Early diagnosis is important in preventing progression of the syndrome. Also, the diagnosis can be made by the healthcare provider when certain conditions are met, including the absence of any other diagnosis that better explains the signs and symptoms.
Treatments
Even though there are many types of medications available to be used, physical therapy is a primary component of treatment. There are many types of medications that can be used as well, such as surgical procedures, which may help to reduce symptoms. Treatment plans often incorporate several of these measures, and it helps when they are individualized. There is no cure for this condition, at this time, yet research continues for one. Many advances have resulted in some new treatments, which are very effective. A few patients have experienced remission of symptoms of this condition.
Treatment options may include:
Medications: NSAIDS, Opiates, Lyrica/Neurontin, Antidepressants

Interventional procedures: Lumbar Sympathetic Blocks, Stellate Ganglion Blocks, Spinal Cord Stimulation
Dr. Ajay Yeddu is the pain management specialist in Gilbert AZ at Desert Interventional Spine Consultants. He is an expert in treating RSD with options that include both medication management and interventional procedures. With customized treatment, excellent outcomes can exceed 80% relief!
For the top RSD treatment in Phoenix metro area including Gilbert, Chandler, Mesa, Queen Creek, San Tan and Maricopa, call DISC today. Most insurance is accepted.
Save